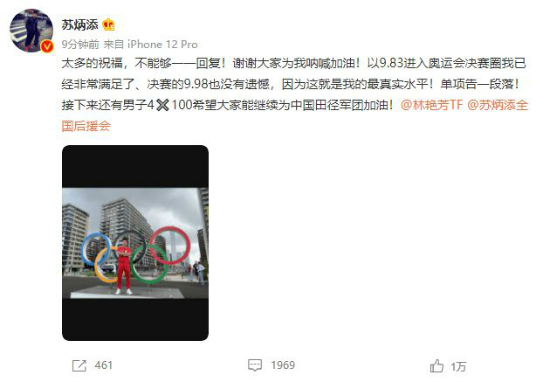 8月1日,在东京奥运会男子百米决赛中,中国选手苏炳添获得第六名。创造了中国田径新的历史,成为中国首位闯入奥运男子百米决赛的运动员。
On August 1, Chinese Su Bingtian won the sixth place in the men's 100m final of the Tokyo Olympic Games. It has created a new history of track and field in China and become the first athlete in China to break into the men's 100m finals of the Olympic Games.

半决赛中,苏炳添跑出了9秒83的疯狂成绩,这是黄种人纪录,也是亚洲纪录。
In the semi-finals, Su Bingtian ran a crazy score of 9.83 seconds, which is not only a yellow record, but also an Asian record.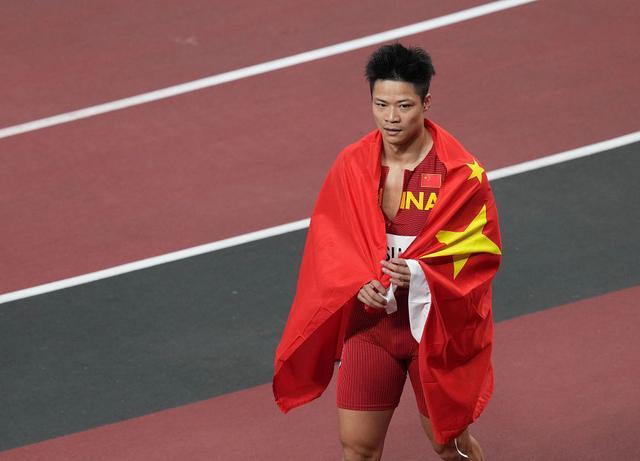 苏炳添说,自己通过多年以来的努力,终于站在了100米(决赛)跑道上面,"我觉得我完成了自己的梦想,也完成了中国短跑历代以来前辈们给予我们年轻一辈的嘱咐。"
Su Bingtian said that through years of efforts, he finally stood on the 100m (final) track. "I think I have completed my dream and the instructions given to our younger generation by our predecessors in Chinese sprint over the ages."

苏炳添:刘翔是我的幸运之神
Su Bingtian: Liu Xiang is my God of luck

赛后苏炳添接受了媒体的采访,他也再次感谢了"领路人"和"幸运星"刘翔。
After the game, Su Bingtian accepted an interview with the media. He also thanked the "guide" and "lucky star" Liu Xiang again.

苏炳添说:"其实我跟翔哥一直都有联系,他也不断地鼓励我、支持我。我第一次突破10秒大关的时候,翔哥也在现场。翔哥对我来说,他不光是我的偶像,也是我的幸运之神。我非常感谢他,因为他是我们中国田径队的开路人。如果没有他的话,我们可能很多人没有想法——要站在奥运会的决赛场上,我们亚洲人也能够拿到奥运会冠军。"
Su Bingtian said: "in fact, I have always been in contact with brother Xiang, and he has constantly encouraged and supported me. When I first broke the 10 second mark, brother Xiang was also on the scene. Brother Xiang to me, he is not only my idol, but also my God of luck. I thank him very much because he is the pioneer of our Chinese track and field team. Without him, many of us may have no idea - to stand in the final field of the Olympic Games, we Asians can also win the Olympic champion. "

此外,苏炳添还表示,"我今天拿到了奥运会第六名,我希望能给予更年轻运动员的体育生涯一个非常大的鼓励。我相信我们现在接触到的技术理念,用在他们身上,能够事半功倍。"
In addition, Su Bingtian also said, "I won the sixth place in the Olympic Games today. I hope to give a great encouragement to the sports career of younger athletes. I believe that the technical concepts we are now exposed to can be used on them to get twice the result with half the effort. "

人民日报评苏炳添创造历史
People's Daily Comments on Su Bingtian's creation of history

不是夺得奖牌才值得庆贺,超越自我就能赢得尊崇。从第一次跑进10秒,到跑进奥运决赛,苏炳添一次次逆天改命,跑赢了时间。这是中国骄傲,也是亚洲荣耀。奔跑是一种状态,更是一种风采。致敬中国速度,致敬每位创造历史的英雄!
Not winning a medal is worth celebrating. Surpassing yourself can win respect. From the first 10 seconds to the Olympic finals, Su Bingtian changed his life again and again and won the time. This is the pride of China and the glory of Asia. Running is not only a state, but also a style. Pay tribute to China's speed and every hero who makes history!