相遇在上海 邀约看世界
Meet in Shanghai invite to see the world

发布时间:2020-11-18 09:34 来源:中国旅游报 编辑:杨倩
09:34, November 18, 2020 source: China Tourism News Editor: Yang Qian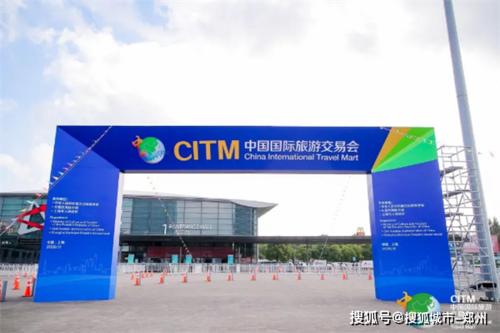 一针一线绣出美丽风景,一山一水尽显文化气韵。2020中国国际旅游交易会(以下简称"旅交会")于11月16日至18日在上海市举办,吸引了50多个国家和地区以及国内31个省区市的1500多家旅游机构线上、线下参展参会。参展商们带着发展文化和旅游、扩大开放、增加就业、拉动消费、助推经济社会发展等的美好愿景,共赴这场"文旅融合,诗遇远方"的盛会。
The beautiful scenery is embroidered with a needle and thread, and the cultural charm is fully displayed in the mountain and water. China International Tourism Fair 2020 (hereinafter referred to as the "Tourism Fair") was held in Shanghai from November 16 to 18, attracting more than 1500 tourism institutions from more than 50 countries and regions as well as 31 provinces, autonomous regions and cities in China to participate in the fair online and offline. With the beautiful vision of developing culture and tourism, expanding opening up, increasing employment, stimulating consumption and boosting economic and social development, the exhibitors went to the grand gathering of "cultural tourism integration, poetry meets the distance".

在为期3天的展会中,线下和线上双平台的展览交易使海内外文化和旅游新资源、新产品得到多角度、全方位展示,产品推介、品牌推广、专业洽谈、线上交易等环节让参展商们收获满满。
During the three-day exhibition, the exhibition and transaction of both offline and online platforms enabled new cultural and tourism resources and new products at home and abroad to be displayed from multiple angles and in an all-round way. Exhibitors were fully benefited from product promotion, brand promotion, professional negotiation and online trading.

文化+旅游 突出文旅融合理念
Culture + tourism highlights the integration of culture and Tourism

"创意点亮美好生活。"走进文化和旅游部的主题展馆,一位身着传统苗族服饰的年轻姑娘正在进行网络直播,她将手机镜头对准了展台上绣工精美的香包。"大家请看,这个香包是用苗族独有的破丝秀制成,香包上的龙舟图腾寓意着吉祥平安。"这位姑娘名叫邰娟娟,来自贵州黔东南苗族侗族自治州台江县,是县级苗族刺绣非遗传承人。
"Creativity lights up a good life." Walking into the theme exhibition hall of the Ministry of culture and tourism, a young girl in traditional Miao costumes is making a live webcast. She focuses her mobile phone lens on the exquisite embroidered sachets on the exhibition stand. "Please see, this sachet is made of the unique Miao silk show. The Dragon Boat totem on the sachet implies good luck and peace." The girl's name is Tai JUANJUAN. She comes from Taijiang County, Qiandongnan Miao and Dong Autonomous Prefecture. She is the inheritor of intangible cultural heritage of Miao embroidery at the county level.

邰娟娟介绍,台江县长滩村是文化和旅游部资源开发司创意下乡项目的帮扶点。在专业力量的带动下,他们自主设计了一系列文创产品。这次他们把部分优秀作品带到旅交会现场,希望让更多人了解长滩村的文旅资源和产品。
Tai JUANJUAN introduced that Changtan village of Taijiang county is a help point for creative projects going to the countryside by the Resource Development Department of the Ministry of culture and tourism. Driven by professional forces, they independently designed a series of cultural and creative products. This time, they brought some excellent works to the tourism fair, hoping to let more people understand the cultural and tourism resources and products of Changtan village.

突出文旅融合理念是本届旅交会的一大亮点。文化和旅游部国际交流与合作局设立"欢乐春节展区""东亚文化之都展区""东盟展区";产业发展司设立"一带一路文旅产业国际合作重点项目展区";资源开发司设立"精品文创展区"。
Highlighting the concept of cultural tourism integration is a highlight of this tourism fair. "One belt, one road, the East Asian cultural capital" and "ASEAN exhibition area" are set up by the international exchange and Cooperation Bureau of the Ministry of culture and tourism. The Industrial Development Division set up a "key area for the exhibition of international cooperation in the area of tourism and tourism", and the Resource Development Division set up a "quality cultural and creative exhibition area".

故宫博物院、国家博物馆、国家图书馆、中国美术馆等4家单位以单独展台参展,展示了各自的"网红"产品。故宫博物院带来即将发售的2021年迎祥贺岁文创产品,国家博物馆的文创首饰成了热销品,中国美术馆展出馆藏作品复制品,国家图书馆则让参展商现场体验5G阅读树带来的沉浸式阅读。

The Palace Museum, the National Museum, the National Library of China and the Chinese Art Museum exhibited their "online celebrities" products on their own booths. The Palace Museum brings cultural and creative products to celebrate the auspicious and new year in 2021. Cultural and creative jewelry from the National Museum of China has become a hot seller. The China Art Museum displays copies of its collections. The National Library of China allows exhibitors to experience immersive reading brought by 5g reading tree.

参展商们还带来了富有文化创意的旅游产品、线路等。吉林、甘肃、陕西等国内省区市展台设有非遗手工技艺及文创产品展示区,展示了精彩的非遗技艺和多元的文创产品。其中,吉林展馆突出"温暖相约,冬季到吉林来玩雪"主题,以图们江、鸭绿江边境风光和朝鲜族民族风情为鲜明特色,把宫廷米糕等非遗美食和朝鲜族传统民乐表演带到旅交会现场。
The exhibitors also brought cultural and creative tourism products and routes. The exhibition booths of Jilin, Gansu, Shaanxi and other provinces and cities have exhibition areas for intangible cultural heritage handicrafts and cultural and creative products, displaying wonderful intangible cultural heritage skills and diversified cultural and creative products. Among them, the Jilin Pavilion highlights the theme of "warm and meet, come to Jilin to play snow in winter", and takes the border scenery of Tumen River and Yalu River and Korean ethnic customs as distinct features, bringing intangible cultural heritage food such as palace rice cake and Korean traditional folk music performance to the Tourism Fair.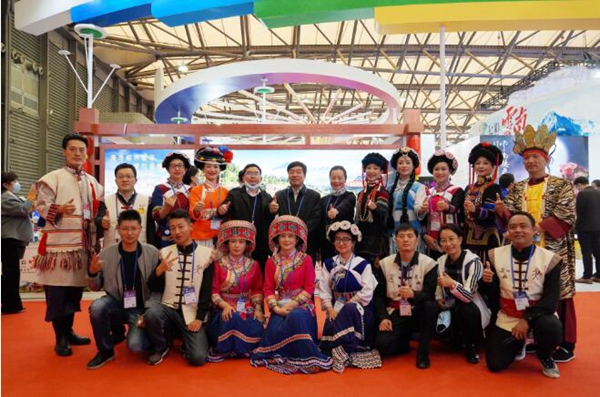 线下+线上 搭建展示交易平台
Offline + online display and trading platform

在疫情防控常态化背景下,本届旅交会采取线上、线下相结合的方式举办,有效扩大了覆盖面和影响力。
Under the background of normalization of epidemic prevention and control, the tourism fair was held online and offline, effectively expanding its coverage and influence.

云展厅、云会议、云洽谈……即使未抵达现场,客商也可以在旅交会官网通过其360度全景动态展示了解展馆信息、进行业务洽谈。

Cloud exhibition hall, cloud conference, cloud negotiation Even if they don't arrive at the scene, they can get to know the information of the exhibition hall and conduct business negotiation through its 360 degree panoramic dynamic display on the official website of the tourism fair.

线上,买家和卖家可以登录预约洽谈系统进行预约配对,通过视频、语音、留言形式进行一对一洽谈。线下,国内外参会展商精彩亮相,面对面洽谈业务、开展旅游产品推介会和签约等活动。
Online, buyers and sellers can log in to the appointment negotiation system for appointment matching, and conduct one-to-one negotiation through video, voice and message. Offline, exhibitors at home and abroad made wonderful appearances, held face-to-face business talks, held tourism product promotion meetings and signed contracts.

走进新疆展台时,记者仿佛步入一座白色的城堡。新疆维吾尔自治区文化和旅游厅党组成员、副厅长古丽·阿不力木介绍,旅交会期间,他们重点推介了冬季旅游产品,推出10条冬季精品旅游线路以及各种新鲜玩法。
When entering the Xinjiang exhibition stand, the reporter seems to step into a white castle. Guli abulimu, member of the Party group and deputy director of the Department of culture and tourism of Xinjiang Uygur Autonomous Region, said that during the tourism fair, they focused on promoting winter tourism products, launching 10 winter boutique tourism routes and various new ways of playing.

如今,自驾游备受游客喜爱。"昌都虽然不是西藏热门旅游目的地,却是四川和云南自驾游客进藏的第一站。我们带来了5条精品线路,包括探险游和徒步游等,希望可以吸引更多资深玩家来游玩。"西藏自治区昌都市旅游发展局工作人员介绍。
Nowadays, self driving tour is popular among tourists. "Although Changdu is not a popular tourist destination in Tibet, it is the first stop for self driving tourists from Sichuan and Yunnan. We have brought five boutique routes, including adventure tour and hiking tour, hoping to attract more senior players to visit Introduction to the staff of Changdu Tourism Development Bureau of Tibet Autonomous Region.

预售秒杀、互动展示、精彩演出……旅游企业展区同样精彩纷呈,中国旅游集团、华侨城集团、中国国际航空有限公司等企业纷纷亮出特色。
Pre sale second kill, interactive display, wonderful performance The exhibition area of tourism enterprises is also splendid, and enterprises such as China Tourism Group, OCT Group and China International Airlines Co., Ltd. have shown their own characteristics.

中国旅游集团以新"中旅"全新品牌形象盛装亮相,展馆以"新中旅,新征程,与世界重新出发"为主题,组织旗下七大业务单元根据各自业务特点,推出形式多样的活动,包括中旅旅行的旅游产品营销互动、中旅酒店的福利优惠活动等。
With the theme of "new China travel service, new journey, starting again with the world", China Tourism Group has organized seven business units to launch various activities according to their business characteristics, including the marketing interaction of tourism products and the welfare activities of China Travel Hotels.

走进中国国际航空公司展馆,记者瞬间被香气四溢的餐食、糕点和饮品所吸引。展台工作人员介绍,国航针对自身航线特点推出了特色餐食,展示餐食背后的故事,并为部分旅客提供"空中酒窖"服务和四季健康茶饮。
Entering the Air China Pavilion, the reporter was instantly attracted by the delicious food, cakes and drinks. According to the staff of the exhibition stand, Air China has launched special meals according to the characteristics of its own routes, showing the stories behind the meals, and providing "air wine cellar" service and four seasons health tea for some passengers.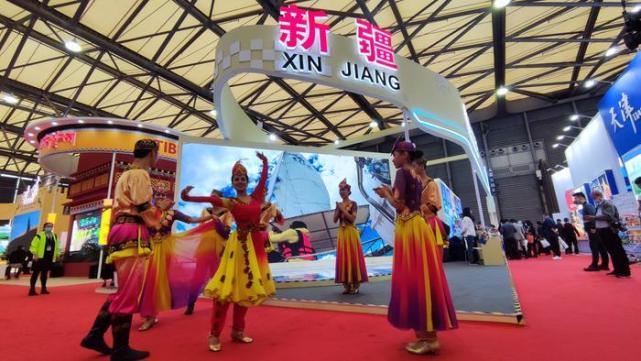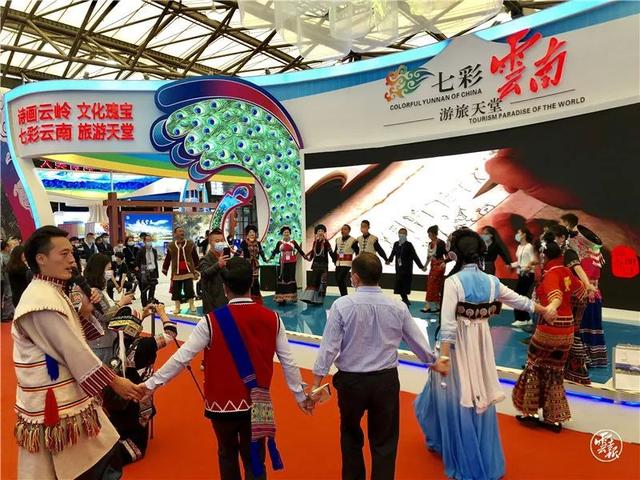 国内+国际 期盼市场加快复苏
Domestic + International looking forward to market recovery

旅交会既是全球各国展示优质资源、扩大旅游交流合作的盛会,也向全球文化和旅游行业释放了旅游复苏的积极信号。
The Tourism Fair is not only a grand event for countries around the world to display high-quality resources and expand tourism exchanges and cooperation, but also a positive signal to the global culture and tourism industry for tourism recovery.

受新冠肺炎疫情影响,今年旅交会现场国际参展商并不多,但仍吸引了韩国、日本、西班牙、摩洛哥等国的旅游机构参展,来自30多个国家和地区的国际展商进行在线参展、交易、洽谈。
Affected by the novel coronavirus pneumonia, there are not many international exhibitors at the Expo, but still attracted the participation of tourism organizations in Korea, Japan, Spain and Morocco. International exhibitors from more than 30 countries and regions are exhibiting, trading and negotiating online.

中国—东盟中心设立特装展位,现场解答东盟旅游咨询,与各方业界人士探讨深化中国—东盟旅游合作。现场氛围热烈活跃,中国游客纷纷表示对东盟之旅满怀期待。
The China ASEAN center has set up special booths to answer on-the-spot consultation on ASEAN tourism, and to discuss with people from all walks of life to deepen China ASEAN tourism cooperation. The atmosphere was warm and active, and Chinese tourists expressed their full expectation for the trip to ASEAN.

在颇具伊斯兰建筑艺术风格的摩洛哥展台,工作人员介绍,摩洛哥从今年10月已经开始接待国际游客了,这次他们带来了较受中国游客喜爱的线路和产品,并与部分旅行商达成意向合作。"我们计划中国恢复出境游业务后,以更加优惠的价格和优质的产品吸引更多中国游客。"
At the Moroccan booth with Islamic architectural art style, the staff said that Morocco has been receiving international tourists since October this year. This time, they have brought more popular routes and products to Chinese tourists, and have reached cooperation with some travel agents. "We plan to attract more Chinese tourists with more favorable prices and high-quality products after the resumption of outbound tourism business in China."

"如今,中国游客对养生旅游有比较浓厚的兴趣,因此,我们展示了与此相关的旅游产品和线路。"韩国旅游发展局上海办事处负责人说,韩国共组织12个地区代表来到旅交会现场。
"Nowadays, Chinese tourists have a strong interest in health tourism, so we show the related tourism products and routes." The head of the Shanghai Office of the Korea Tourism Development Agency said that the Republic of Korea has organized 12 regional representatives to come to the tourism fair.

"我们希望与国内旅行商达成系列合作,推出江原道等不为中国游客所熟知但旅游资源较为丰富的目的地。现在,我们已经和中国部分OTA平台达成合作,开展线上资源产品宣传推广等。"韩国江原道驻上海旅游宣传事务所所长高俊燕说。
"We hope to reach a series of cooperation with domestic travel agents to launch destinations that are not well known to Chinese tourists but are rich in tourism resources. Now, we have reached cooperation with some OTA platforms in China to carry out online resource product promotion and so on. " South Korea JiangYuanDao in Shanghai Tourism Promotion Office Director Gao Junyan said.

已在中国落地4年的欧洲短途度假企业太阳季集团首次参加了旅交会,该集团中国合资公司CEO米歇尔·伊利介绍,目前,太阳季集团在中国共有16个项目正在开发和建设。此次旅交会,他们带来"太阳季活力营""太阳季亲子营"两款家庭游特色度假产品。"我们非常看好中国旅游市场,希望通过旅交会的平台认识更多朋友、达成更多合作,为全球旅游复苏和交流合作贡献一份力量。"(王玮)
Sun season group, a European short-distance holiday company that has been in China for four years, participated in the Tourism Fair for the first time. Michelle Yili, CEO of the group's Chinese joint venture, said that at present, the group has 16 projects under development and construction in China. During the tourism fair, they brought two kinds of family tourism featured holiday products, namely "solar season vitality camp" and "sun season parent-child camp". "We are very optimistic about China's tourism market and hope to know more friends and achieve more cooperation through the platform of the tourism fair, so as to contribute to the recovery of global tourism and exchanges and cooperation." (Wang Wei)