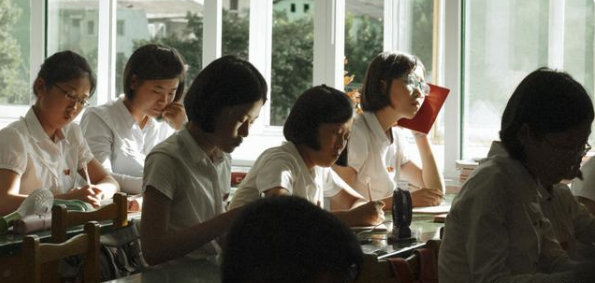 朝鲜从2012年起开始实行12年义务教育。朝鲜学生必须完成高中阶段的学习。
North Korea has implemented 12-year compulsory education since 2012. North Korean students have to complete high school.

林导骄傲地说,朝鲜非常重视教育,学生不需要交任何学费,入学后还可以免费分配到校服和学习用品。大家都知道,国内中学生课业压力很大,补课现象很普遍。很多孩子从小学开始就补课。问林导朝鲜学生是否会补课。林导非常诧异地问我们为什么要补课,并表示朝鲜学生从来不补课。课业压力也不大。
Lin said with pride that North Korea attaches great importance to education. Students do not need to pay any tuition fees and can be allocated school uniforms and school supplies free of charge. As we all know, there is a lot of pressure on middle school students in China, and the phenomenon of making up lessons is very common. Many children make up lessons from primary school. Ask Lin Dao if Korean students will make up lessons. Lin Dao was very surprised to ask us why we need to make up lessons, and said that Korean students never make up lessons. The pressure of schoolwork is not great.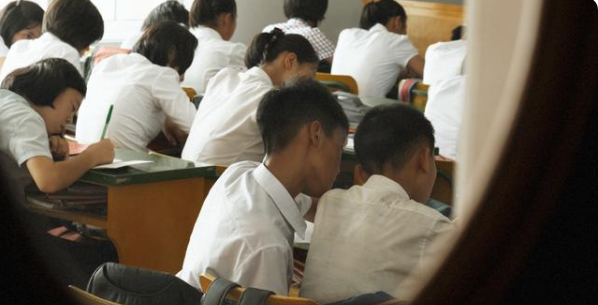 朝鲜中小学生一周上六天课,上课时间从早上八点开始,下午一点就结束了。下午放学后,大部分学生会参加课外活动,比如舞蹈、乐器和绘画等是很多女孩子热爱的艺术活动。而男孩子更喜欢体育活动。朝鲜学生虽然不补课,但他们热爱学习,课余时间他们都是自己主动学习。在平壤地铁上,我见到过很多学生拿着学习资料在背诵。在平壤的夜市,我见到过学生坐在公园长椅上,借着路灯看书。
Korean primary and secondary school students have classes six days a week, starting at 8 a.m. and ending at 1 p.m. After school in the afternoon, most of the students will take part in extracurricular activities, such as dancing, musical instruments and painting, which many girls love. Boys prefer sports. Although Korean students don't make up lessons, they love learning, and they study on their own initiative in their spare time. On the subway in Pyongyang, I have seen many students reciting with learning materials. In the night market of Pyongyang, I have seen students sitting on park benches reading books with street lights.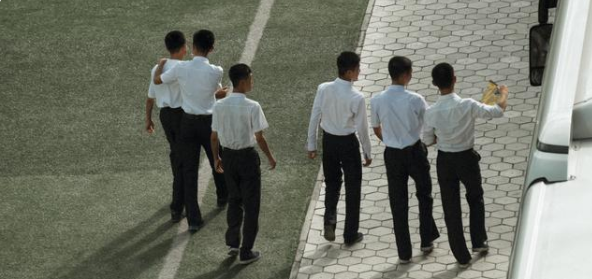 和国内一样,在朝鲜也有不少重点高中。比如平壤一中、牡丹峰中学、六九模范中学等。我们参观的中学就是六九模范中学。朝鲜中学生课业负担不重,高考是否很轻松呢?林导给出的答案是,朝鲜的高考非常激烈。据林导介绍,朝鲜高考满分是5分,想进重点大学,必须达到4.8分以上。朝鲜的高考每年三月份举行,革命历史和外语是必考科目。
As in China, there are many key high schools in North Korea. For example, No.1 Middle School in Pyongyang, Mudanfeng middle school, Liujiu model middle school, etc. The middle school we visited is the 69 model middle school. Korean middle school students are not burdened with heavy schoolwork. Is the college entrance examination easy? Lin Dao's answer is that North Korea's college entrance examination is very fierce. According to Lin Dao, the full score of North Korea's college entrance examination is 5 points. If you want to enter a key university, you must reach more than 4.8 points. Korea's college entrance examination is held in March every year. Revolutionary history and foreign languages are compulsory subjects.

据林导介绍,朝鲜学生上大学前,必须学习一门外语,英语、汉语和俄语比较受欢迎。近些年最受欢迎的外语是汉语。因为学好汉语对将来工作非常有帮助。
According to Lin, North Korean students must learn a foreign language before they go to university. English, Chinese and Russian are popular. The most popular foreign language in recent years is Chinese. Because learning Chinese well is very helpful for future work.