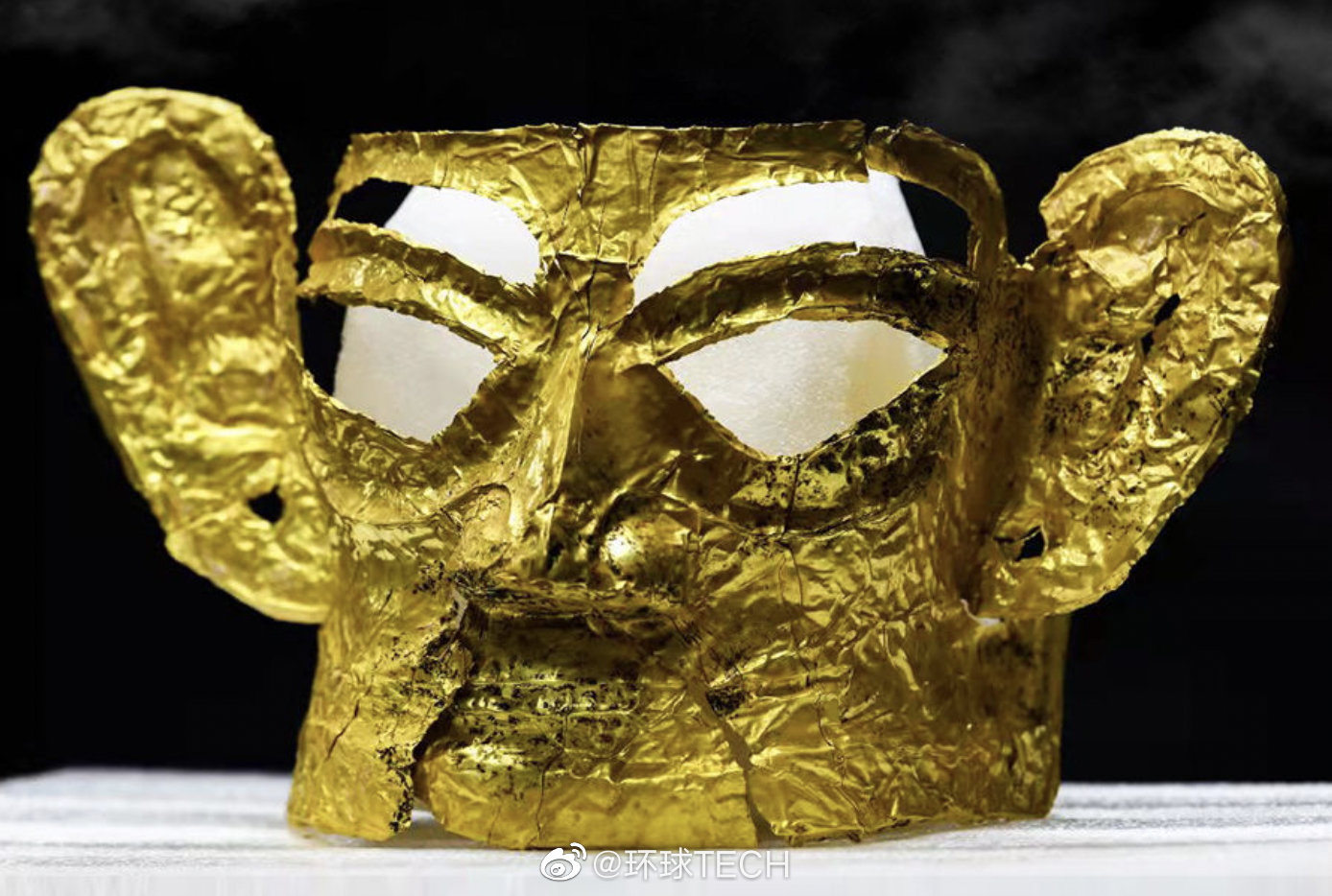 世界文联通讯处9月9日电(记者张超群、李倩薇)四川省文物考古研究院9日公布了新一批三星堆考古出土文物,其中一张完整的金面具格外引人注目。
The World Federation of literary and art circles communication office, September 9 (reporter Zhang Chaoqun, Li Qianwei) Sichuan Institute of cultural relics and Archaeology announced a new batch of Sanxingdui archaeological relics on September 9, of which a complete gold mask is particularly eye-catching.

这件金面具6月中旬在三星堆遗址3号"祭祀坑"出土。当考古人员从3号"祭祀坑"缓慢取出一块青铜罍残片后,一团被压得严重变形的金器出现在人们眼前。出土时,这件金器仿佛一张稿纸被揉成一团,难辨形状。修复人员用不到一周时间,一张完整的金面具缓缓呈现。
This gold mask was unearthed in "sacrificial pit" No. 3 of Sanxingdui site in mid June. When the archaeologists slowly took out a piece of bronze from the No. 3 "sacrificial pit", a mass of gold ware that was severely deformed appeared in front of people. When unearthed, the gold ware was crumpled into a ball like a piece of manuscript paper, which was difficult to distinguish its shape. In less than a week, a complete gold mask slowly appeared.

据介绍,这张薄如蝶翼的金面具宽37.2厘米、高16.5厘米,重约100克,眉眼镂空,两耳轮廓圆润,鼻梁高挺,嘴形大而微张,造型威严神圣,是目前三星堆考古发掘中出土最完整的一件金面具。
It is reported that this gold mask as thin as a butterfly wing is 37.2 cm wide, 16.5 cm high, weighs about 100 grams, has hollow eyebrows and eyes, round ears, tall nose, large and slightly open mouth, and has a dignified and sacred shape. It is the most complete gold mask unearthed in the archaeological excavation of Sanxingdui.

四川省文物考古研究院三星堆考古研究所所长冉宏林告诉记者,这件金面具的面部特征与三星堆此前出土的青铜人头像形象一致,尺寸也接近青铜人头像。"我们推测这件金面具是覆盖在青铜人头像面部的一部分,而不是一件独立使用的器物。"他说。
Ran Honglin, director of Sanxingdui Archaeological Research Institute of Sichuan Institute of cultural relics and archaeology, told reporters that the facial features of this gold mask are consistent with the bronze head image previously unearthed in Sanxingdui, and the size is also close to the bronze head. "We speculate that the gold mask is part of the face of the bronze head, not an independent object," he said.

细观古蜀遗址出土的金面具,不难发现它们都是用模具捶揲而成,眉眼镂空,表面打磨光亮。"黄金的延展性很好,可以锤打得很薄,再嵌刻成需要的造型贴合在头像表面。"冉宏林说。
Looking closely at the gold masks unearthed from the ancient Shu site, it is not difficult to find that they are all made by hammering with molds, with hollow eyebrows and eyes and polished surfaces. "The malleability of gold is very good. It can be hammered very thin and then embedded into the required shape to fit on the surface of the head," ran Honglin said.

今年1月,三星堆曾出土重约286克的金面具残件,虽然只有"半张脸",但它仍保持着目前三星堆出土最重金面具的记录。考古人员透露,三星堆遗址中还出土了另外两件待修复的金面具。随着后续考古研究和修复工作陆续开展,三星堆还将有更多"金色"奇迹。
In January this year, a remnant of a gold mask weighing about 286 grams was unearthed in Sanxingdui. Although it has only "half a face", it still maintains the record of the heaviest gold mask unearthed in Sanxingdui. Archaeologists revealed that two other gold masks to be repaired were unearthed in Sanxingdui site. With the follow-up archaeological research and restoration work carried out one after another, there will be more "golden" miracles in Sanxingdui.