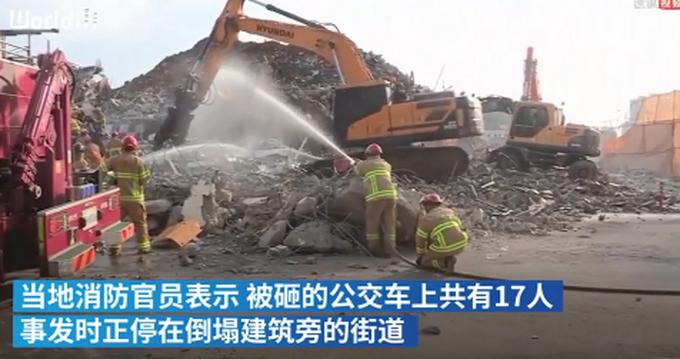 当地时间9日下午,韩国光州市东区的一处拆迁楼倒塌,造成17人伤亡。消防部门对坍塌事故现场进行彻夜搜救,截至发稿前,未发现其他受困者。中新社记者从中国驻光州总领事馆了解到,死伤者中无中国公民。
On the afternoon of the 9th local time, a demolished building in the East District of Guangzhou city collapsed, killing 17 people. The fire department searched and rescued the scene of the collapse all night. As of the time of publication, no other trapped people were found. China News Agency reporters learned from the Chinese Consulate General in Guangzhou that none of the dead and injured were Chinese citizens.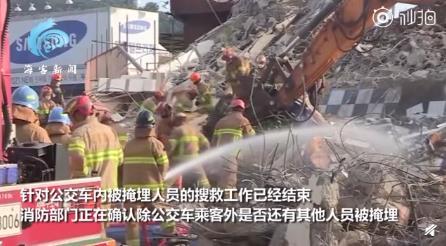 据韩联社报道,当地时间9日16时22分许,位于光州市东区鹤洞的一栋5层拆迁楼倒塌,导致一辆公交车被埋,造成9人遇难,8人重伤。消防部门已出动重型机械对被拆迁楼废墟掩埋的公交车站、道路和人行道进行清理,事故现场的小规模搜救工作仍在进行当中。
At about 16:22 local time on the 9th, a 5-story demolition building in Hedong, East District of Guangzhou city collapsed, burying a bus, killing nine people and seriously injuring eight, Yonhap reported. The fire department has dispatched heavy machinery to clean up the bus stops, roads and sidewalks buried in the ruins of the demolished building, and the small-scale search and rescue work at the scene of the accident is still in progress.

事故发生后,中国驻光州总领事馆第一时间向韩有关部门确认,死伤者中无中国公民。
After the accident, the Chinese Consulate General in Guangzhou immediately confirmed to the relevant South Korean authorities that there were no Chinese citizens among the casualties.

据悉,拆迁施工公司现代产业开发表示,承揽拆迁工程的外包公司员工在事故发生前已经撤离,因此事故发生时建筑内没有工作人员。相关部门将在救援工作结束后前往现场进行事故鉴定,查明事故原因。
It is reported that modern industrial development, a demolition construction company, said that the employees of the outsourcing company who contracted the demolition project had evacuated before the accident, so there was no staff in the building at the time of the accident. Relevant departments will go to the scene to identify the cause of the accident after the rescue work.

(原标题:韩光州市拆迁楼倒塌致9死8伤 死伤者中无中国公民)
(original title: 9 dead and 8 injured due to the collapse of demolished buildings in hanguangzhou City, no Chinese citizen)