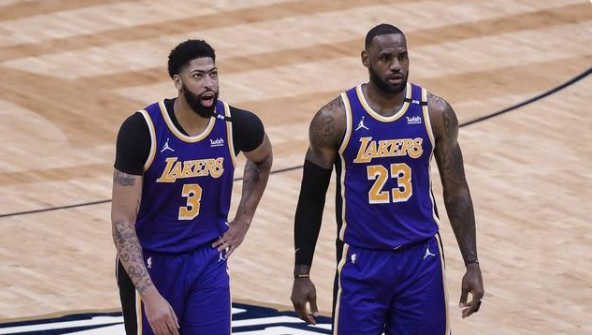 北京时间6月10日消息,来自NBA著名记者萨马斯-查拉尼亚的报道称,消息灵通人士透露,湖人队超级巨星勒布朗-詹姆斯下赛季将改穿6号球衣。
Beijing time on June 10 news, from the famous NBA reporter Samas chalaniya reported that informed sources revealed that the Lakers superstar LeBron James will wear No. 6 Jersey next season.

2018年休赛期加盟湖人队后,詹姆斯一直身穿23号球衣。之后,他曾有意把23号让给安东尼-戴维斯。下赛季詹姆斯从23号改为6号,浓眉呢?消息源称,浓眉预计将继续穿3号。
James has been wearing the No. 23 Jersey since he joined the Lakers off-season in 2018. After that, he had intended to give No. 23 to Anthony Davis. Next season, James will be changed from No.23 to No.6. What about the thick eyebrow? The source said that thick eyebrow is expected to continue to wear size 3.

詹姆斯首次身穿6号是在美国男篮。2010年夏天加盟热火队后,詹姆斯也是身穿6号,因为迈阿密退役了23号球衣。
James first wore number six in the US men's basketball team. After joining the heat in the summer of 2010, James also wore No. 6 because Miami retired from No. 23.

2019年夏天,当时湖人队通过交易得到浓眉。詹姆斯最初的计划是穿回6号,把23号让给浓眉,因为浓眉在鹈鹕队的整个生涯都穿23号。但最终,因为其他商业方面的决定,那次换号没有成功。
In the summer of 2019, the Lakers got a big eyebrow through a trade. James's original plan was to go back to No. 6 and give No. 23 to Nongmei, because Nongmei wore No. 23 all his life in the pelicans. But in the end, because of other commercial decisions, the change was unsuccessful.

身穿6号时期,詹姆斯场均交出26.9分7.6篮板6.7助攻1.7抢断的数据。而身穿23号时期,詹姆斯场均有27.0分7.4篮板7.6助攻1.5抢断入账。
During the No. 6 period, James averaged 26.9 points, 7.6 rebounds, 6.7 assists and 1.7 steals. James had 27.0 points, 7.4 rebounds, 7.6 assists and 1.5 steals.

如此一来,詹姆斯有希望成为NBA史上首位拥有4件退役球衣的球员,分别是骑士队23号、热火队6号、湖人队23号,以及湖人队6号。在NBA历史上,拥有最多退役球衣的是张伯伦和皮特-马拉维奇,两人各有3件退役球衣。
As a result, James is expected to become the first player in NBA history to have four retired jerseys, namely Cavaliers No. 23, heat No. 6, Laker No. 23 and Laker No. 6. In NBA history, Chamberlain and Peter malawich have the most retired jerseys, each with three retired jerseys.

今年季后赛,是詹姆斯职业生涯首次在季后赛首轮出局。而在2020年,他率领湖人队夺取队史第17冠。
This year's playoffs, James career for the first time out in the first round of the playoffs. In 2020, he led the Lakers to the 17th championship.

改穿6号,也就意味着詹姆斯的重新起航。
Changing to No. 6 means James will set sail again.