【每日一星】第347号 吕萌 Lv Meng 第三次上榜
世界艺术家排行榜
World artist rankings
《每日一星》
A star of the day
第347号 吕萌
No. 347 Lv Meng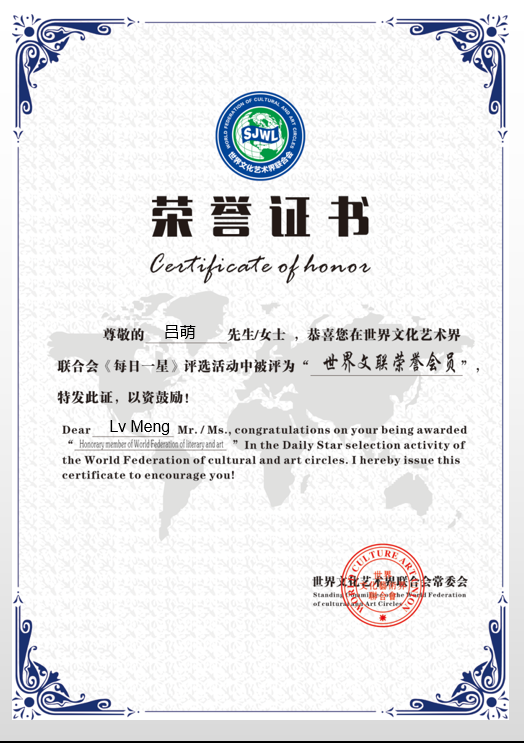 吕萌,辽宁芭蕾舞团演员,国家一级演员。
Lu Meng, a member of Liaoning Ballet, is a national first-class actor.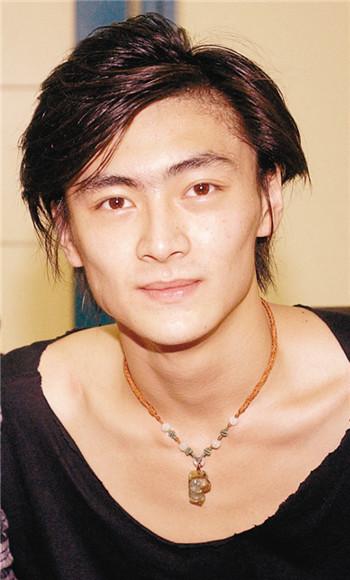 1984年6月出生,共青团员,2001年毕业于辽宁芭蕾舞团舞蹈学校,同年进入辽宁芭蕾舞团任演员工作,现任首席演员。国家一级演员。
Born in June 1984, he is a member of the Communist Youth League. He graduated from Liaoning Ballet Dance School in 2001 and joined Liaoning Ballet as an actor in the same year. He is now the chief actor. National first class actor.

吕萌经过专家的指导和自己的辛勤努力,在业务上有了很大的进步,在第二届上海国际芭蕾舞比赛中获铜奖,在第二十届瓦尔纳国际芭蕾舞比赛中获"2002特别大奖",在第二届CCTV电视舞蹈大赛中获金奖。

With the guidance of experts and hard work, LV Meng has made great progress in her business. She won the bronze prize in the second Shanghai International Ballet Competition, the "2002 special award" in the 20th Varna international ballet competition, and the gold medal in the second CCTV TV Dance Competition.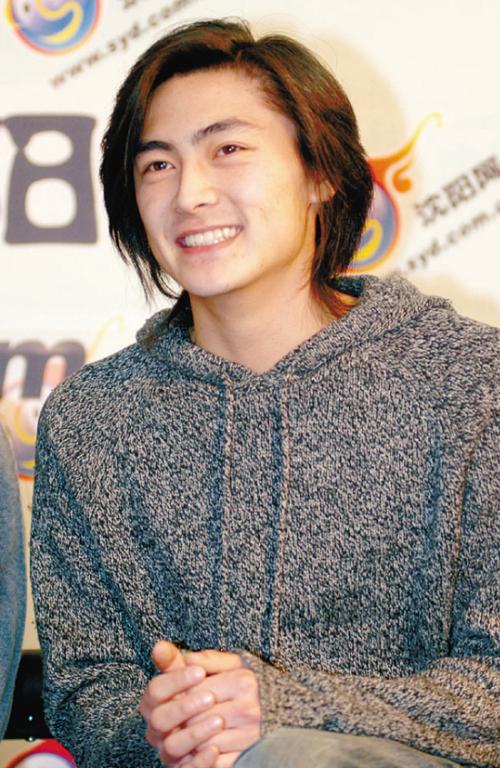 瓦尔纳舞蹈大赛堪称世界舞蹈界的奥林匹克,"特别大奖"是高于金奖的奖项,近二十年无人获得。2007年被评为第十八届"中国十大杰出青年"荣誉称号,吕萌能获此殊荣实属中国舞蹈界的骄傲。
Varna dance competition can be called the Olympic Dance World, "special award" is higher than the Gold Award, no one has won in recent 20 years. In 2007, she was awarded the honorary title of the 18th "top ten outstanding youth of China". It is indeed the pride of Chinese Dance circles that LV Meng can be awarded this honor.

8月26日,吕萌到北京报到。走进导演组,当听说自己将和一个四川地震中被截肢的小女孩共同表演时,吕萌立刻想到了李月。

On August 26, LV Meng reported to Beijing. Entering the director group, when she heard that she was going to perform with a little girl who was amputated in the Sichuan earthquake, she immediately thought of Li Yue.

"一个从小学习舞蹈的女孩,由于意外致残;但她乐观坚强,一直希望有一天能在舞台上圆她的芭蕾梦。终于,梦想中的'芭蕾王子'出现了,他们一起舞蹈。你就是那位芭蕾王子,而小女孩就是汶川地震中致残的'芭蕾女孩'李月,"导演说。节目名字叫"永不停跳的舞步" 。
"A girl who learned to dance from childhood was disabled by accident, but she was optimistic and strong and always hoped to realize her ballet dream on stage one day. Finally, the dream "Prince of ballet" appeared and they danced together. You are the prince of ballet, and the little girl is Li Yue, who was disabled in the Wenchuan earthquake, "the director said. The program is called "never stop dancing".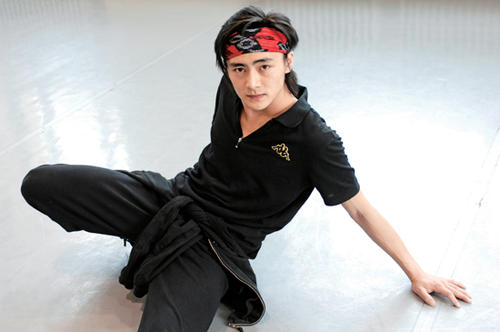 听到导演的阐述,吕萌非常激动。北川县曲山小学的"芭蕾女孩"李月在废墟中被困了70多个小时,对生命的渴望和对舞蹈的热爱,让她坚强地挺了过来。她热爱芭蕾,可地震却让她失去了左腿。汶川地震后,李月那双无辜的大眼睛,让吕萌记住了她,而只有11岁的李月执著的芭蕾梦想则感动了吕萌。"帮助她圆'芭蕾梦'是所有关心她的人应该努力去做的事",吕萌迫不及待想见到这个坚强的小女孩。
Hearing the director's explanation, Lu Meng was very excited. Li Yue, a "Ballet Girl" in Qushan primary school in Beichuan County, was trapped in the ruins for more than 70 hours. Her longing for life and her love for dance made her strong. She loved ballet, but she lost her left leg in the earthquake. After the Wenchuan earthquake, Li Yue's innocent big eyes made LV Meng remember her, while Li Yue, only 11, was moved by her persistent ballet dream. "To help her realize her" ballet dream "is something that all people who care about her should try to do." Lu Meng can't wait to see this strong little girl.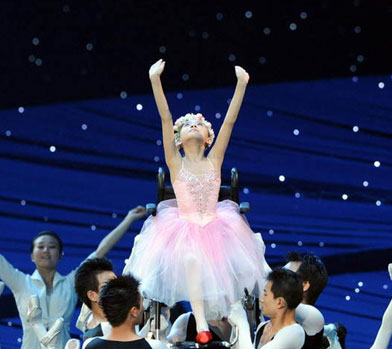 第一眼见到李月,吕萌惊诧她的美丽、健康与阳光,有些羞涩的脸上透着坚强。吕萌跑上前去,蹲下身来,以一个大哥哥的身份表示合作愉快。但李月只是嘴角略带微笑。吕萌不免有些伤感,这伤感不是由于被冷落,而是来自一个伤残女孩面对梦想的那种无奈。吕萌下决心,一定要让这个女孩恢复自信。
Seeing Li Yue for the first time, LV Meng was surprised by her beauty, health and sunshine. Her shy face was strong. Lu Meng ran forward and squatted down to express his happiness of cooperation as a big brother. But Li Yue just smiles. Lu Meng can't help feeling sad. The sadness is not due to being ignored, but from the helplessness of a disabled girl in the face of her dream. LV Meng is determined to make the girl confident again.

第一天排练后,吕萌没有回房间洗澡,而是跑到附近的超市,给小李月买了果冻等许多好吃的,还有一些小女孩喜欢的用品。看到这些,李月和这位大哥哥一下贴近了。他们谈了很多,但吕萌避免去触动李月心中的那份伤痛。
After the first day of rehearsal, LV Meng didn't go back to her room to take a bath. Instead, she went to the nearby supermarket and bought jelly and other delicious things for Xiao Li Yue, as well as some things the little girl liked. Seeing these, Li Yue and this big brother get close to each other. They talked a lot, but Lu Meng avoided touching the pain in Li Yue's heart.

接下来的排练让吕萌更加难忘。由于李月的伤还在治疗恢复当中,为了不影响排练,李月早晨5点就要起床,在妈妈的陪伴下打针、理疗。早上8点进排练场,晚上8点多才能回房间。这种强度让健全的吕萌都感到很累,而坚强的李月总是淡淡地表示,"没事"。
The next rehearsal made LV Meng more unforgettable. Because Li Yue's injury is still in the process of treatment and recovery, in order not to affect the rehearsal, Li Yue will get up at 5 a.m. and receive injection and physiotherapy accompanied by her mother. Enter the rehearsal at 8 a.m. and return to the room after 8 p.m. This kind of intensity makes the sound LV Meng feel very tired, while the strong Li Yue always says lightly, "nothing.".

开幕式前不久,一次到"鸟巢"彩排,从晚上一直到次日凌晨3点。吕萌问李月困吗,她回答说"不困",还给吕萌做了一个鬼脸。
Shortly before the opening ceremony, there was a rehearsal for the "bird's nest" from night until 3 a.m. the next day. LV Meng asked Li Yuehan if she was sleepy. She replied that she was not sleepy and made a grimace for her.

开幕式上,人们印象最深的就是"芭蕾王子"最后与"伤残女孩"翩翩起舞;小女孩坐在"王子"肩上,"王子"将小女孩高高举起。这个动作刚开始排练时,坚强的李月还有些害怕;吕萌告诉她,"别怕,哥哥很专业的,比你重很多的女孩哥哥都能举得起来"。丢掉紧张的李月马上自如多了。"芭蕾王子"与"残疾女孩"共舞那完美的一幕传遍了世界。
At the opening ceremony, the most impressive thing was that "Prince ballet" finally danced with "disabled girl"; the little girl sat on the shoulder of "Prince", and the prince held the little girl high. At the beginning of the rehearsal, Li Yue, a strong woman, was still a little afraid. LV Meng told her, "don't be afraid. My brother is very professional. Any girl who is much heavier than you can lift it.". Li Yue is much more comfortable when she loses her nervousness. "Prince ballet" and "disabled girl" dance together, that perfect scene spread all over the world.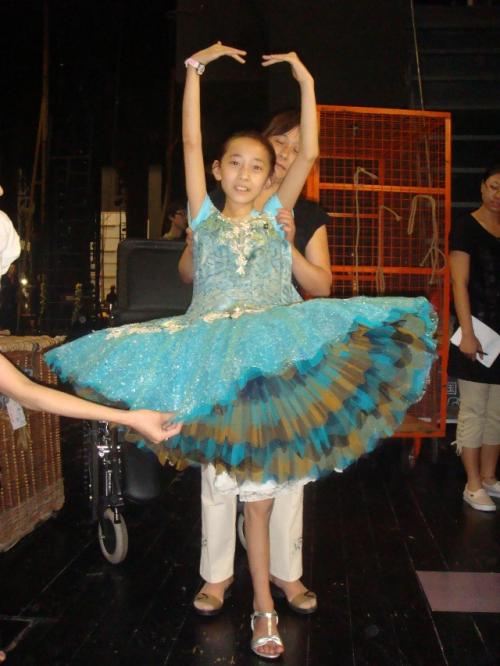 吕萌表示,参加残奥会开幕式表演虽然只有短短的几分钟,加上排练,也不过一周多的时间,但这短短的时间足以让他铭记一辈子。这个参加过北京奥运会火炬接力的"芭蕾男孩"表示,这将是他一生中最精彩的表演。
LV Meng said that although it was only a few minutes to participate in the opening ceremony of the Paralympic Games, plus rehearsal, it was only more than a week, but this short time was enough to make him remember for a lifetime. This is the most wonderful performance of the torch relay in Beijing.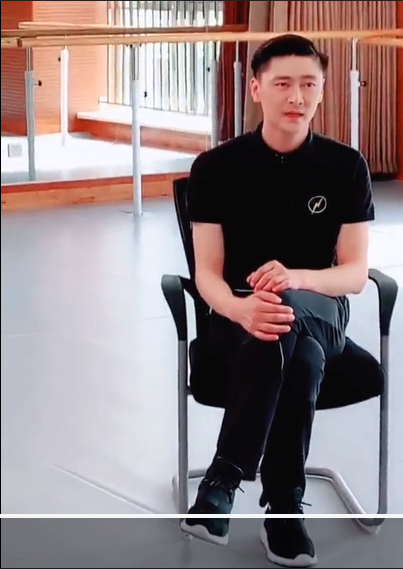 开幕式结束后,吕萌要马上赶往大连参加电影节的演出。临别时,吕萌还不忘感谢坚强的"小妹妹"李月,因为是她使得吕萌对生活有了更深的感悟,对舞蹈有了别样的理解。
After the opening ceremony, Lu Meng will rush to Dalian to participate in the performance of the film festival. Before leaving, LV Meng did not forget to thank her strong "little sister" Li Yue, because she made her have a deeper understanding of life and a different understanding of dance.

2020年10月7日,在世界文联艺术家排行榜《每日一星》评选活动中荣获第一名。2021年6月10日再次荣登榜首。
On October 7, 2020, he won the first prize in the selection of "Daily Star" in the World Federation of literary and art artists list. On June 10, 2021, he won the top of the list again.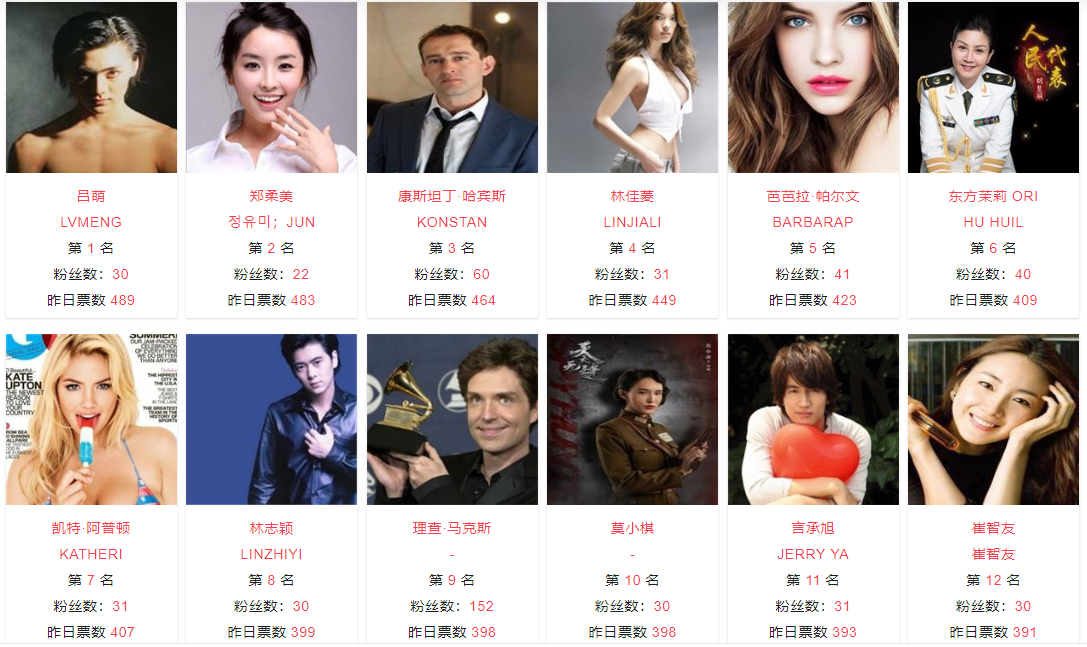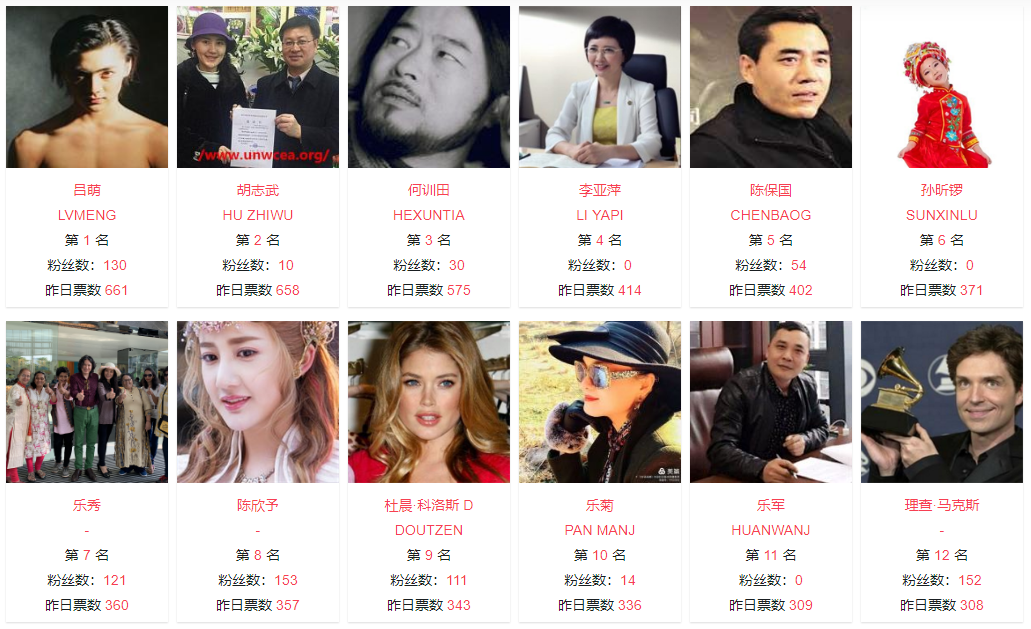 2021年9月9日,在世界文联艺术家排行榜《每日一星》评选活动中荣获第一名。
On September 9, 2021, he won the first place in the selection of "one star of the day" in the artist list of the World Federation of literary and art circles.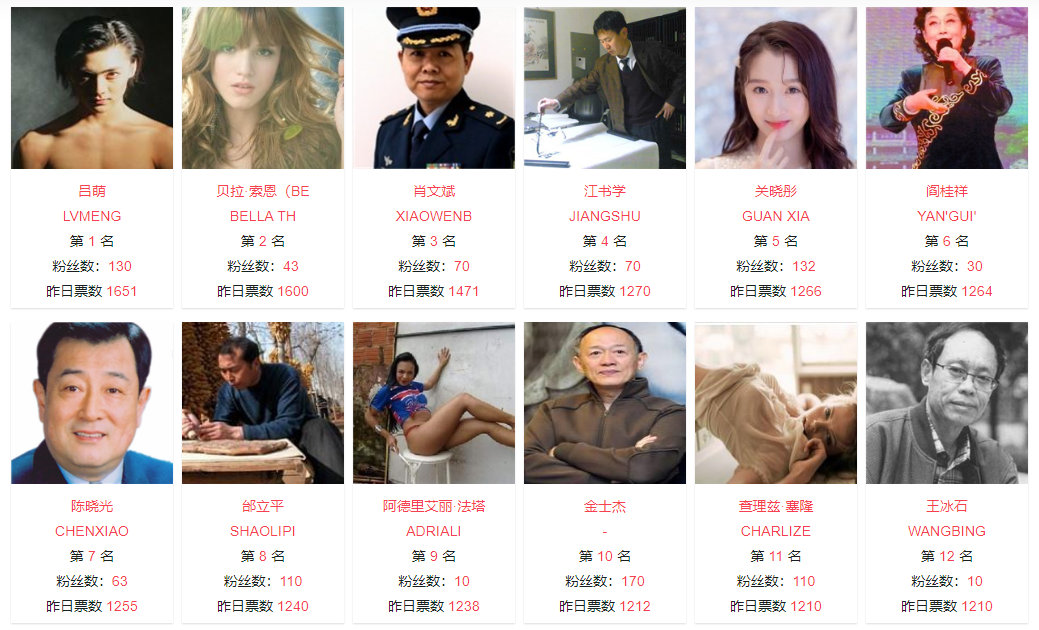 世界文联入会通道(点击进入)

Entry channel of World Federation of literary and art(click to enter)
《每日一星》参与方式(点击进入)
How to participate in "one star of the day"(click to enter)
▼扫码关注世界文联
Scan the code and pay attention to the World Federation of literary and art