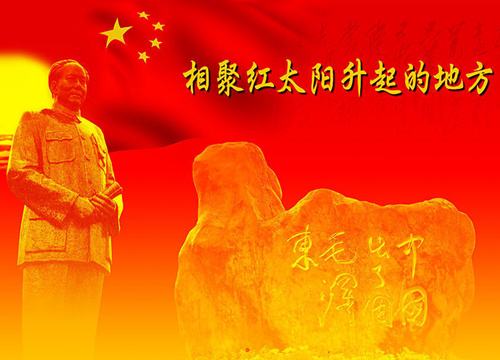 红色地标需要"活"起来,让其承载的精神与价值"活"在人们心中,让群众有感有悟;更需要"动"起来,通过政府与公众的互动、历史与当代的互动,让红色资源发挥更大的社会价值。
Red landmarks need to "live" to make the spirit and value they carry "live" in people's hearts and make the people feel and understand; It is more necessary to "move" and let the red resources play a greater social value through the interaction between the government and the public and the interaction between history and contemporary times。
  安徽合肥有条延乔路,不长,1200多米,取革命烈士陈延年、陈乔年名字中"延""乔"二字而来,位于集贤路与繁华大道相交的西北方向。
There is a Yanqiao road in Hefei, Anhui Province, which is not long and more than 1200 meters. It comes from the words "Yan" and "Qiao" in the names of revolutionary martyrs Chen Yannian and Chen qiaonian. It is located in the northwest of the intersection of Jixian road and bustling Avenue.
  一段时间以来,随着电视剧《觉醒年代》的热播,陈独秀父子尤其是延年、乔年兄弟的英雄事迹,为更多人熟知,延乔路成为大家缅怀先烈的地标。每逢节假日,市民、学生自发前往驻足悼念,各地游客专程到此缅怀追思。路牌下,朵朵鲜花寄托哀思;栏杆上,红领巾迎风飘动;卡片里,感人肺腑的话语寄托敬仰。
For some time, with the popularity of the TV series "the awakening era", the heroic deeds of Chen Duxiu and his son, especially Yannian and Qiao Nian brothers, have been well known to more people. Yanqiao road has become a landmark for everyone to cherish the memory of the martyrs. Every holiday, citizens and students spontaneously stop to mourn, and tourists from all over the world come here to remember. Under the road signs, flowers repose sorrow; On the railing, the red scarf fluttered in the wind; In the card, touching words are placed in admiration.
  优秀的影视作品、动人的讲述方式和新颖的传播方式,往往能引发共情共鸣,获得润物细无声的效果,让那些过去只出现在历史书上的人名与事件,生动起来、鲜活起来,传播红色文化、赓续红色基因。"延乔路"短,"集贤路"长,都通向一个终点:"繁华大道"。来自网友的评论与感悟,正是红色教育的生动写照。
The vivid and novel way of telling the story of the past can only resonate with the vivid and moving way of film and television, which can only bring about the vivid and moving effect of the past. "Yanqiao road" is short and "Jixian road" is long, leading to an end: "prosperous Avenue". Comments and insights from netizens are a vivid portrayal of red education.
  此外,当地敏锐抓住影视剧带来的热度和效应,巧妙挖掘、有效激发红色资源,收获了良好效果。去年,延乔路刚被一些网友注意到时,当地相关部门便迅速在路口竖起宣传牌,介绍陈家兄弟的生平事迹。之后,采取了一系列提升措施:批复同意将延乔路上的一所小学更名为"延乔路小学",对延乔路重新规划、封闭施工、提升改造,致力于打造合肥又一处红色地标。这些举措,不仅获得网友点赞,称之为"'追星'的正确打开方式",更使延乔路知名度进一步提升,红色资源进一步活化。只有政府部门、社会组织与市民之间同频共振,才能让"网红"得以"长红","流量"变成"能量"。
 In addition, the local government has keenly grasped the heat and effect brought by film and television dramas, cleverly excavated and effectively stimulated red resources, and achieved good results. Last year, when Yanqiao road was noticed by some netizens, the relevant local departments quickly erected billboards at the intersection to introduce the life stories of the Chen brothers. After that, a series of improvement measures were taken: it was approved to rename a primary school on Yanqiao road as "Yanqiao Road Primary School", re plan, close construction, upgrade and transform Yanqiao Road, and strive to build another red landmark in Hefei. These measures were not only praised by netizens as "the correct way to open 'star chasing', but also further enhance the popularity of Yanqiao road and further activate red resources. Only when government departments, social organizations and citizens resonate at the same frequency, can "Internet red" be "long red" and "traffic" become "energy".